We are proud to give you an update on TREEO, the monitoring technology that we have been developing in Uganda during the past 18 months with support by the German Ministry of Economic Cooperation and Development (BMZ).
An earlier version of the app was developed with support from google.org through our successful participation at the Google Impact Challenge Germany 2018. Fairventures Digital GmbH, the official company behind TREEO, was founded on the 8th of November 2021. Complementary to Fairventures Worldwide and Fairventures Social Forestry, it is the third organization in the Fairventures family.
The Challenge: Transparency & Trust
At Fairventures Worldwide we have observed that our projects have been delivering fantastic results through the years, improving the livelihoods of hundreds of farmers, reforesting vast areas of degraded lands and removing large amounts of CO2 from the atmosphere.
However, we also encounter a recurring challenge: Accurately tracking and digitizing our impact in order to report back to our partners, donors & employees across the globe. After all, we can't invite everyone to come to the field. We especially lack reliable & trustworthy data on the storage of CO2 within the timber of our trees.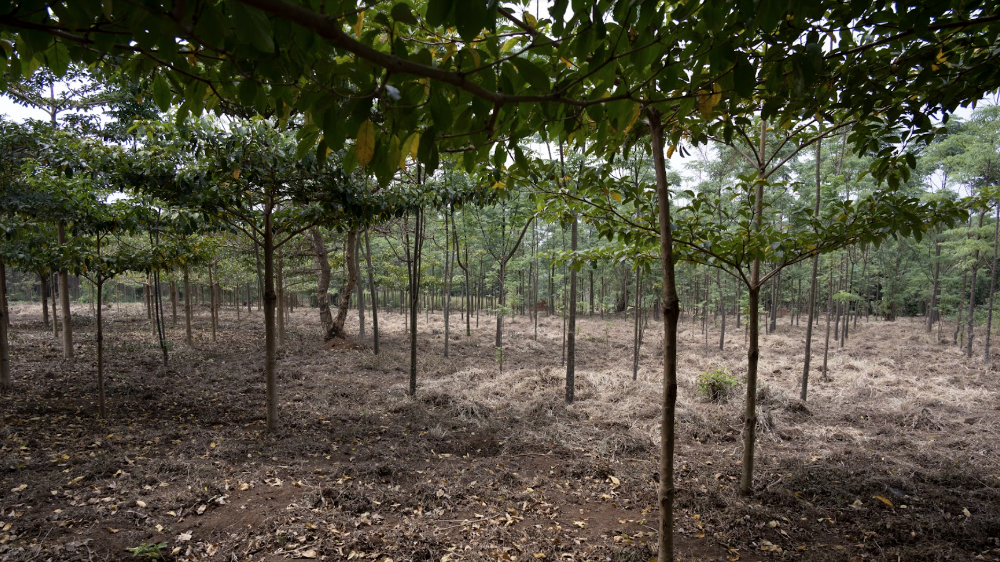 One of the Fairventures test fields near Hoima, Uganda
The TREEO Vision – Balancer & TPI
For that issue, our solution is TREEO: An MRV (Measurement, Reporting & Verification) Technology, including a mobile application for every farmer to use to track the performance of their trees. The data is collected by the farmer through the easy-to-use app. Professional foresters review & verify the data, before reporting to our donors, grant-givers or balancers.
These balancers are climate conscious companies with declared net-zero targets, who not only want to buy a certificate to put a sticker on their product, but strive for real climate change mitigation. After having reduced their greenhouse gas emissions as much as possible, they remove the remaining emissions in collaboration with us, Fairventures Worldwide, as trustworthy partners.
TREEO is the link between those two parties; the balancer and the TPI (Tree Planting Initiative – us). Thus, TREEO has tremendously progressed from its initial conception as an MRV tool funded by BMZ. It is much more than a mobile app for farmers. It is the missing piece in the ecosystem of nature-based carbon removals.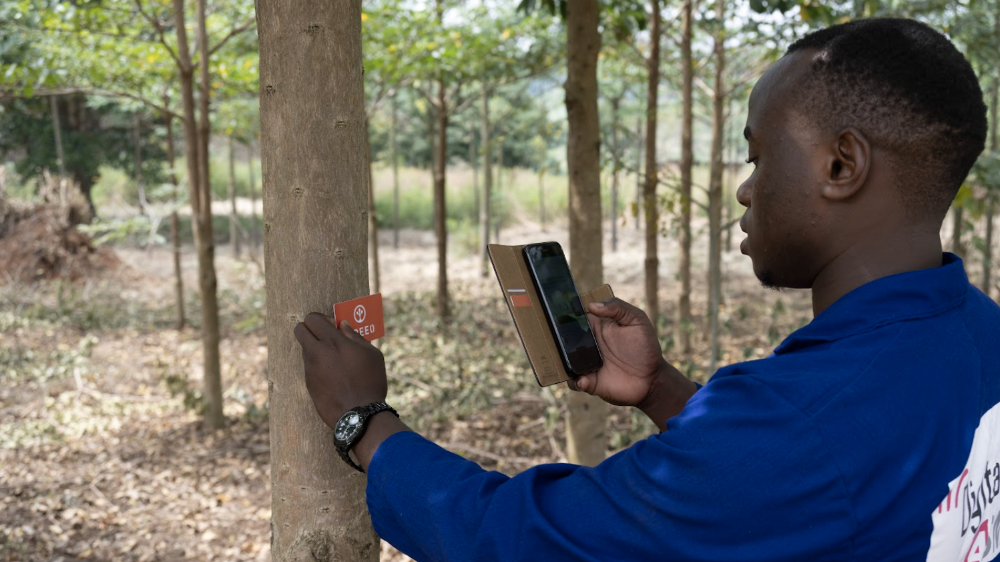 A TREEO Enthusiast near Hoima, Uganda
TREEO Vision – Farmer
But what value does TREEO bring to the smallholders around the world? Do we simply give them an additional task to measure their trees once a year so that we can collect more donations? Not at all:
The problem that many farmers are facing right now is that deforestation is still more profitable than reforestation. This is mainly due to the fact that the majority does not have access to the global CO2 market. Without this value stream of carbon finance, smallholders do not have the financial means to restore degraded lands. They must plant a tree, wait for 10 years and then receive the revenue from the timber sale. This is where we come in:
In the case of Fairventures Worldwide, we can prefinance the plantings as we have the liquidity from our carbon buyers. In the case of TREEO, the treeplanter receives 50% of the money upfront from the balancer in order to initiate the planting and grooming of their trees. The other 50% are paid out annually based on the actual CO2 performance of the specific trees that have been planted. Combined with the income from the growing & selling of certain "cash crops" (smaller fruit & vegetable plantings in between the trees e.g. cocoa, coffee, banana, beans, chili etc.), the farmer has now 3 different income streams:
Annual CO2 payment
Sale of cash crops (min. 1 time per year)
Sale of timber (every ~10 years)
This ensures that farmers have a long-term financial perspective for the usage of their land that is enough to sustain them and their family. In the TREEO Ecosystem, the smallholders are valuable asset holders actively participating in the global CO2 market.
The bureaucratic effort that is necessary to enter the market right now has been making it impossible for smallholders in the past. This now changes.

Potential TREEO stakeholders in Uganda
The Technology
So what exactly can the TREEO technology do? As of right now, it can measure & visualize a farmers' land plot, assign a farmer to a specific tree-planting organization (Fairventures Worldwide or another Fairventures partner) and, most importantly, calculate the DBH (Diameter at Breast Height) of a tree and derive from that an estimation of how much CO2 that specific tree has sequestered (absorbed).
These are the essential features for the TREEO ecosystem to fully function: They deliver information about growth and survival rates, timber value & volume and CO2 performance. More advanced features will be added in the future.
How does TREEO work?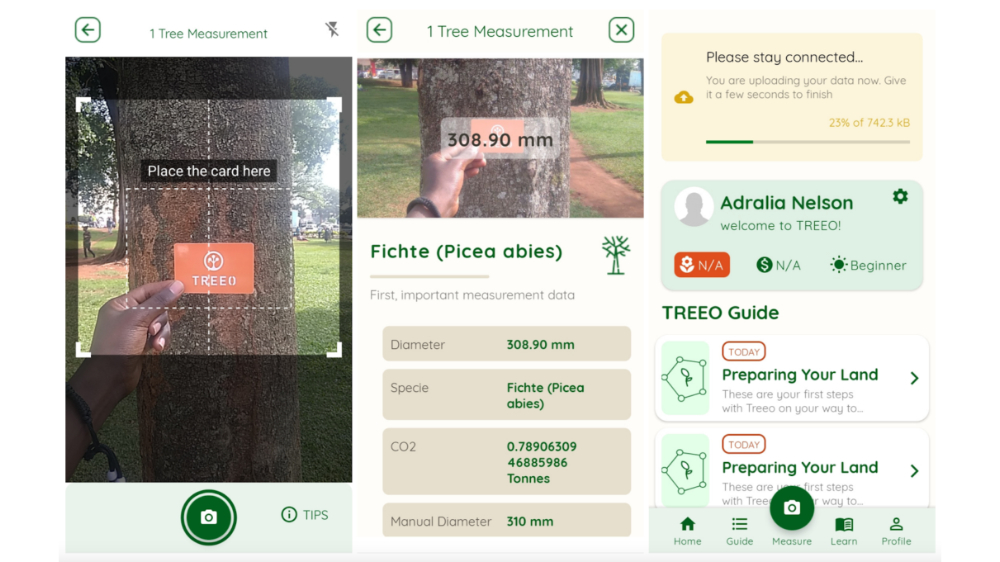 Step 1 – Take a picture of the tree trunk at breast height using the reference card
Step 2 – Obtain insightful & reliable data about the impact of your tree
Step 3 – Upload your data to the tree planting organization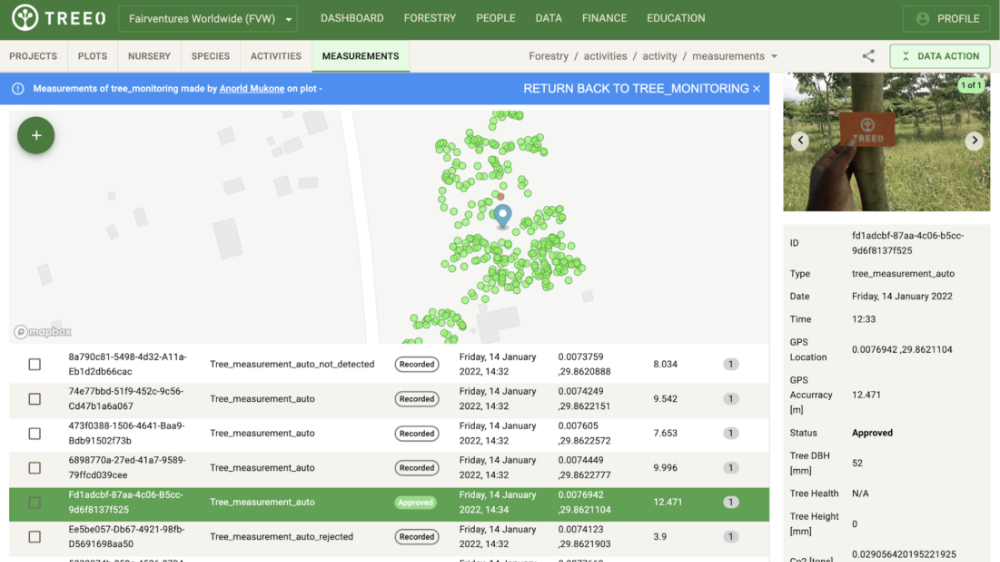 Step 4 – Collect and verify the uploaded data (done by the tree planting organization – e.g. us, Fairventures Worldwide)
The TREEO Team
To make our envisioned ecosystem of TREEO fully functional, there have been some major changes made within the Fairventures Family: Fairventures Digital GmbH – the company behind TREEO – was founded in November 2021 as a for-profit venture to allow for rapid scaling.
This followed after a successfully funded BMZ project headed by our non-profit – Fairventures Worldwide. Secondly, Johannes Schwegler, Founder & former Director of Fairventures Worldwide, has officially left his operational role as CEO, only retaining a representative role within the organization. The position of CEO is now shared between two of his most trusted long-time colleagues: Megan King & Wolfgang Baum. You can find our separate blog article about them here.
And finally, we are happy to report that the TREEO Team is growing rapidly in order to kickstart the first operations, now consisting of almost 20 people worldwide.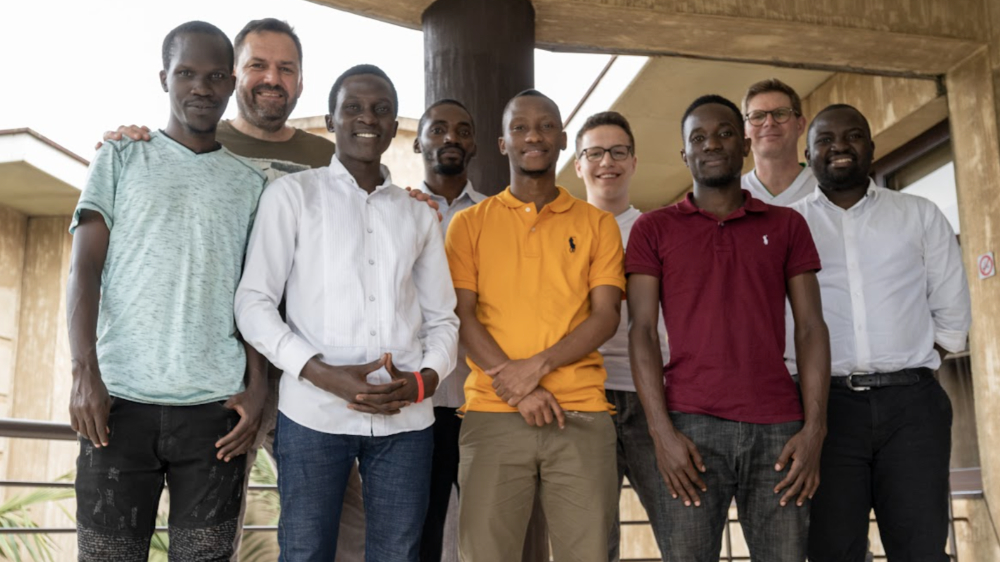 From left to right: Nelson, Johannes, Isaac, Peter, Daniel, Leo, John, Stefan & Anorld
What are the most important recent developments at TREEO?
The photo above was taken on February, 7th in Kampala, when Johannes, Stefan & Leo from the German Team attended a workshop with the development team in Kampala. This workshop wrapped up a 10-day road trip through Uganda. The objective was to better understand the country, its people and especially potential TREEO stakeholders.
The second important update that we can give you is that we have been accepted to our first Startup Accelerator Program recently! During our time in Uganda, we filmed an application video, which you can find here.
With this, we managed to be accepted to the so-called KIC Climaccelerator, a program that specifically focuses on Carbon Dioxide Removals! This will be of major importance during the next months, as the carbon market remains nascent & non-transparent, a field that is not easy to navigate for any stakeholder. The Accelerator will support us in accelerating our operations and telling our story accordingly.
And finally, we are very happy to update you on our progress in fundraising: With a combination of angel investors and venture capital institutions, we are planning to close the seed investment round by the end of June. But nothing is set in stone: If you want to be a part of our story and get involved, please contact Nicolas Henriksson.
For more frequent updates and general information about TREEO, please check out our Social Media channels:
Instagram, Facebook & LinkedIn.
Stay tuned!